Does your throat hurt? Sore throats aren't just caused by viruses. Chicago, IL, ear, nose and throat specialist Dr. Gordon Siegel of Midwest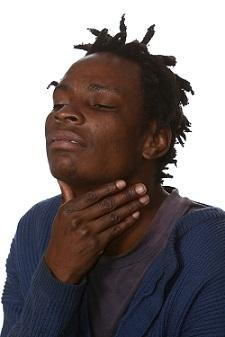 Ear Nose and Throat discusses a few things that can cause throat pain.
Allergies
Allergies may irritate your throat, in addition to causing a runny nose and itchy eyes. Your sore throat may become worse if you also experience post-nasal drip.
Environmental factors
Have you recently spent time around smoke or strong chemicals? These substances can irritate the lining of your throat.
Sleeping with your mouth open
Sleeping with your mouth open tends to dry your throat, which can cause pain. A dry or sore throat upon awakening can be a sign of sleep apnea, a condition that occurs due to multiple, short breathing pauses during the night.It's important to visit our Chicago office if you have throat pain in the morning, snore, constantly feel tired, or gasp for air or choke during the night.
Viral and bacterial infections
Colds, the flu and other viruses, such as chickenpox, may cause sore throats. Throat pain may also occur if you develop strep throat, an illness caused by a bacterial virus. Although sore throats caused by viruses should gradually get better on their own, you'll need antibiotics if you have a strep throat.
Winter air
Furnaces tend to dry the air, which can cause throat irritation.
An injury
Throat injuries are sometimes responsible for throat pain. Injuries can happen due to a blow to your neck or may happen if you spent a long time yelling or singing. 

REFLUX 
Gastroesophageal reflux may be responsible for sore throats and cough. It may go undetected for long periods of time. This can usually be diagnosed treated with a few simple steps.
More serious causes
Although a sore throat is usually a minor symptom that soon goes away, sometimes a sore throat can be a sign of a serious condition or disease. Throat pain can occur if you have a disorder of the tonsils or a tumor in your throat or larynx.
Sore throats that last more than a week or are particularly severe should be evaluated by an ENT. Call Chicago, IL, ear, nose and throat specialist Dr. Gordon Siegel of Midwest Ear Nose and Throat at (312) 988-7777 to schedule your appointment.